Going home can be a relief. It helps to be prepared and to be realistic about what to expect. Some people make a full recovery within a few weeks of getting home. For others, improvements and changes will continue for many weeks or months.
Everybody's recovery is individual to them. It may take a bit longer than you think. Try to take things one day at a time. Don't put yourself under pressure by setting yourself too many goals.
We have written this to help make the transition home from hospital or rehabilitation as easy as possible for you and to help you prepare.
Get the Booklet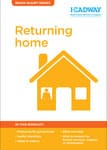 Download Returning Home Part of the Brain Injury Series of booklets. Publication in pdf format