The Family Guide to Brain Injury
Get the Booklet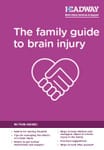 Download  The Family Guide to Brain Injury -Part of the Brain Injury Series of booklets. Publication in pdf format
Summary
Contents: Advice for leaving hospital; Tips for managing the effects of a brain injury; Where to get further information and support; Ways to help children and teenagers adjust to a brain injury in the family ; Practical suggestions; Ways to look after yourself.
Request a Copy
You can request a printed copy of this booklet using our contact form. Please specify which booklet you require. This booklet is part of the Brain Injury Series of booklets. The full pack of booklets together with organiser and folder is available for sale from our store.
Contributors and Sources
Booklet Content and Concept Development Team, Headway Ireland: Lead – Ruth Lunnon, Senior Information and Support Officer; Catherine O'Hare, Information and Support Officer, Ciaran Nolan, Counsellor; Richard Stables Information and Support Manager and Sonya Gallagher, Senior Counselling Psychologist/Head of Rehabilitation Services, Headway Dublin.
Acknowledgement: Sincere thanks to the many Headway family members whose shared experiences made such a valuable contribution to the writing of this booklet and to the Headway staff members whose facilitation of this work was so vital to its success.
Sources Used:
Caring for someone with a brain injury. Richard Norris, Headway UK (2016).
Getting better and better after brain injury: A guide for families, friends and caregivers (25 ideas). Jeffrey Kreutzer. The National Resource Centre for Traumatic Brain Injury, US (1999).
Head Injury: The Facts. Audrey Daisley and others. Oxford University Press (2009).
How can I communicate with my child about TBI? traumaticbraininjuryatoz.org (accessed January 2017).
Living with Brain Injury– a guide for patients and families. Richard C Senelick. Healthsouth Press (2013).
The Caregiver Helpbook: Powerful Tools for Caregivers. Legacy Caregiver Services, 2006.
Headway's Information and Support Team would be happy to hear your feedback on this material. Please contact us on 180 400 478 or email info@headway.ie.
Disclaimer
Please note: we have done our best to provide information that is correct and up-to-date. However, we cannot be responsible for any errors or omissions. Everyone's brain injury affects them differently. You should not consider this information as a substitute for getting advice from a doctor or other professional.
© Headway Ireland 2016. Next review due in 2018. You may download and print this booklet for personal or not-for-profit use. If you wish to reproduce any portion of this booklet, you must request permission from Headway Ireland by emailing info@headway.ie or phoning 01 6040 800 within Ireland or 003531 6040 800 from outside Ireland.