The Brain and Brain Injury
Get the Booklet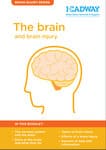 Download The brain and brain injury . Part of the Brain Injury Series of booklets. Publication in pdf format
Summary
The nervous system and the brain; Types of brain injury; Parts of the brain and what they do; Effects of a brain injury; Sources of help and information
Request a Copy
You can request a printed copy of this booklet using our contact form. Please specify which booklet you require. This booklet is part of the Brain Injury Series of booklets. The full pack of booklets together with organiser and folder is available for sale from our store.
Contributors and Sources
Booklet Content and Concept Development Team, Headway Ireland: Lead – Ruth Lunnon, Senior Information and Support Officer; Elaine Kelly, Senior Clinical Neuropsychologist; Marcia Ward, Senior Clinical Neuropsychologist; Claire McMoreland, Clinical Psychologist; Richard Stables, Information and Support Manager and Catherine O'Hare, Information and Support Officer.
Sources Used:
Brain Aneurysm. Online article mayoclinic.com (accessed Sep 2016).
Effects of anoxic and hypoxic brain injury. Headway UK, Web article headway.org.uk (accessed Sep 2016).
Essentials of the Human Brain. John Nolte. Mosby Elsevier (2010).
Fundamentals of Human Neuropsychology. Bryan Kolb and Ian Whishaw. Worth Publishers (2015)
Human Neuropsychology. G Neil Martin. Pearson (2006).
Model Systems Knowledge Translation Center factsheets, USA, web articles msktc.org/tbi/factsheets (accessed Sep 2016).
The Human Brain – an introduction to its functional anatomy. John Nolte. Mosby Elsevier (2009).
Types of Stroke. National Center for Chronic Disease Prevention and Health Promotion, USA, www.cdc.gov/stroke/types_of_stroke.htm (accessed Sep 2016).
Headway's Information and Support Team would be happy to hear your feedback on this material. Please contact us on 1800 400 478 or email info@headway.ie.
Disclaimer
Please note: we have done our best to provide information that is correct and up-to-date. However, we cannot be responsible for any errors or omissions. Everyone's brain injury affects them differently. You should not consider this information as a substitute for getting advice from a doctor or other professional.
© Headway Ireland 2016. Next review due in 2018. You may download and print this booklet for personal or not-for-profit use. If you wish to reproduce any portion of this booklet, you must request permission from Headway Ireland by emailing info@headway.ie or phoning 01 6040 800 within Ireland or 003531 6040 800 from outside Ireland.