Alcohol After a Brain Injury
Get the Booklet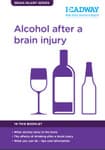 Download Alcohol after a brain injury -Part of the Brain Injury Series of booklets. Publication in pdf format
Summary
Contents:  What alcohol does in the brain; The effects of drinking after a brain injury; What you can do – tips and information
Request a Copy
You can request a printed copy of this booklet using our contact form. Please specify which booklet you require. This booklet is part of the Brain Injury Series of booklets. The full pack of booklets together with organiser and folder is available for sale from our store.
Contributors and Sources
Booklet Content and Concept Development Team, Headway Ireland: Ruth Lunnon (Lead), Senior Information and Support Officer; Elaine Kelly, Senior Clinical Neuropsychologist, Catherine O'Hare, Information and Support Officer and Richard Stables Information and Support Manager.
Acknowledgements: Our sincere thanks to the many Headway clients whose shared experiences made such a valuable contribution to the writing of this booklet and to the Headway Rehabilitation staff who kindly facilitated them in this work.
We are grateful to the Acquired Brain Injury Partnership Project, Saskatchewan and wish to acknowledge that the layout and some of the content of our booklet is based on their excellent leaflet, Alcohol and Drugs (2015).
Sources Used:
Alcohol and Drugs. Leaflet. Acquired Brain Injury Partnership Project. Saskatchewan Government Insurance and the Saskatchewan Ministry of Health (2015) (Accessed April 2015).
Alcohol Following Brain Injury. Leaflet. Brain Injury Research Trust (2013). (Accessed April 2015).
Alcohol Use After Traumatic Brain Injury. Factsheet. TBI Model Systems Knowledge Translation Center, USA. Web articles msktc.org/tbi/factsheets (accessed Sep 2016).
Neuropsychological Rehabilitation: Theory, Models, Therapy and Outcome. Barbara A. Wilson and others. Cambridge University Press (2009).
Headway's Information and Support Team would be happy to hear your feedback on this material. Please contact us on 1800 400 478 or email info@headway.ie.
Disclaimer
Please note: we have done our best to provide information that is correct and up-to-date. However, we cannot be responsible for any errors or omissions. Everyone's brain injury affects them differently. You should not consider this information as a substitute for getting advice from a doctor or other professional.
© Headway Ireland 2016. Next review due in 2018. You may download and print this booklet for personal or not-for-profit use. If you wish to reproduce any portion of this booklet, you must request permission from Headway Ireland by emailing info@headway.ie or phoning 01 6040 800 within Ireland or 003531 6040 800 from outside Ireland.