Alcohol after a brain injury
"I developed epilepsy because of my injury. Drinking triggered my seizures so I decided to give up because for me prevention was far better than cure. It was hard at first but I feel better in general now and have more money in my pocket." – Damien from Co Kerry
After a brain injury, most people want to know when they can go back to having a drink or if it is safe to drink at all.
We have produced this booklet to:
Help answer these questions.
Suggest ways to reduce the amount of alcohol you drink or how to avoid it.
List where to get more information or support if you need it.
Alcohol is widely consumed in Ireland. However, it is a drug that has powerful effects on our brains. Alcohol works by changing our brain chemistry. This is what makes us feel relaxed, happy or sad when we drink.
A brain injury causes a loss of brain cells and may cause scar tissue. This can affect how well our brain works. The damage to the brain makes it more sensitive to alcohol and other drugs. We don't yet fully understand all the ways that alcohol affects an injured brain. What we do know is that the effects are greater and are not easy to predict.
Any substance such as alcohol or drugs can affect how our brain works whether we have a brain injury or not. For people with a brain injury, the effects of drugs or alcohol are increased.
Get the Booklet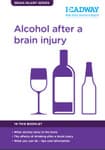 Download Alcohol after a brain injury -Part of the Brain Injury Series of booklets. Publication in pdf format