Art and Acquired Brain Injury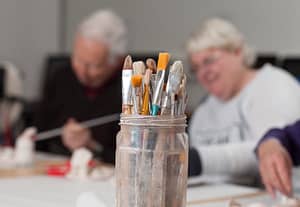 In Headway, we bring the arts into our rehabilitation setting in order to help us tell stories, and in that way, to share and understand our experiences. The visual art activities provide our clients with brain injury an authentic learning experience that engages the whole person in a meaningful way.
In the Headway visual art groups, clients are encouraged to create unique individual art pieces to provide a starting point for reminiscence and life review. We also encourage all participants to draw on their own wealth of experience. The resulting works of self-expression help to develop the person's confidence and enhances their ability to concentrate.
Some group participants may have a reduced ability to communicate verbally, for example, following  a stroke. Art sessions provide the opportunity for these participants to explore alternative ways of self-expression.
Art also provides the opportunity for the development of key skills of benefit in recovery from brain injury:
Hand-eye coordination
The development of motor skills
The development of sensory discrimination, e.g. How to mix paint, the results obtained by use of different tools, How to mix colours? use of collage or clay etc.
The development of problem solving skills. Eg. what to do if paint is too thin? When to use different brushes
To see "mistakes" as opportunities for exploration
Finally, the groups provide the opportunity to socialise and develop supportive peer relationships.
Although the activity itself is important for rehabilitation, the works that our clients produce can be inspiring. See, for example the works in the Portfolio of Art and Artists