Headway is today presenting new research on return to work following brain injury at the World Congress on Brain Injury organised by the IBIA (International Brain Injury Association) in the Hague. The research is entitled "Returning to Work after Acquired Brain Injury: Perspectives of Acquired Brain Injury Survivors" and was done by Headway's Caroline Earley in conjunction with Dublin City University.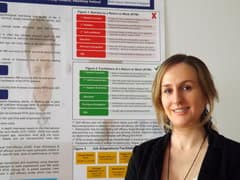 Caroline interviewed forty participants for the research study which forms a poster presentation in the "Neurorehabilitation – activities and participation" category of  research at the World Congress.
The main findings indicate that
Return to work is more likely for younger, more highly educated survivors with professional past occupations
The most common barriers to work are mental functions, particularly fatigue, mobility difficulties and self-confidence.
Factors that help return to work include drive, job characteristics and the support of various others, including employers.
You can download a copy of the poster presentation by clicking the image below: