#OutoftheBlue for Brain Awareness Week 2022
#OutoftheBlue is an awareness animation developed by clients of Headway Dublin. For this year's Brain Awareness Week, we are featuring this video to explain that:
a brain injury can happen to anyone any time.
it is not a challenge that has to be met alone – help is available from Headway.
the effects of a brain injury can be hidden (such as communication challenges or changes in how someone thinks and feels), and
life can be good again after a brain injury.
More about the project
Headway Dublin has a client-led fundraising group. One of the group, Derek Cummins, previously worked on another animation with the IADT when he was a patient at the National Rehabilitation Hospital. Derek and Headway staff member, Sara Sabbioni, approached David Quin, of IADT's Department of Film and Media, earlier this year, to propose a joint project. One of David's animation students, Jessie Flynn, came on board, along with Ruth Lunnon of Headway's Information & Support team.
Derek was joined on the project by a number of Headway clients – amongst whom were Una Elliot, David O'Hara, Deirdre O'Brien and Caroline Leonard. The clients and staff met online during the Spring and Summer. Together they developed the script and gave feedback to Jessie and David at each stage of the design process.
Derek said of the project: "After talking it through with a group, we felt the main message of the video should be a positive one – in other words: to help more people to realise that life doesn't stop after a brain injury. Also, we wanted more people to know that Headway could help them and to encourage them to make contact for support, like we had.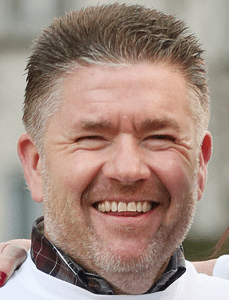 Client Derek Cummins
In the recording studio out in IADT, Geoffrey Perrin, the college's Chair of Creative Music Production, graciously and expertly facilitated Una, David , Deirdre and Derek to make the recordings for their voice-overs.
Una was a complete natural once she got in front of the microphone out in IADT (as you can see from the photos!). Her voice is the main one featured on the animation. "What I found so special about the project was that we were able to express what having a brain injury is like for us and what we have been through. Jessie and David listened to us and, through the animation, portrayed the care we got from Headway and how we are coming through with each other. They managed to pull our ideas together into a wonderful animation that gets across our stories, the vital support we got from Headway and that we are still living meaningful lives."
Extra.ie journalist, Emma Costello, explores Una's story with her in this article: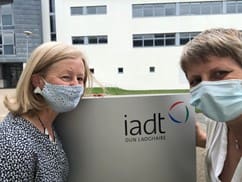 Client Una Elliot and staff member Ruth Lunnon enjoying themselves in IADT
Deirdre O'Brien, another of the Headway clients who helped develop the script and whose voice is also featured on the animation, said: "I am very grateful to have been part of this project – it was a great experience." Deirdre, from Cabra, has been attending Headway in Blackhall Green, since 2019. She added: "The support and encouragement I got from Headway has really helped me get my life back together."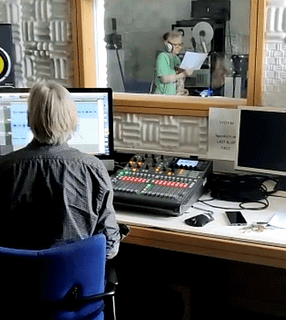 Geoffrey Perrin of IADT recording Headway client Deirdre O'Brien
David O'Hara, another participant, expressed what the project meant to him: "I felt the animation was an incredible opportunity for all involved. Jessie and David showed true passion and immense dedication to the project – brainstorming with the Headway clients and adapting their creativity to suit our collective aspirations. The imagery and animation style that Jessie developed, portrayed the sense of stumbling forward that learning to live with a brain injury can feel like, while also showing Headway as the much-appreciated gust, guiding you to take a fresh path. I believe this animation is a precious example of how Headway staff and attendees are helping to change the country for the better – getting people to discuss the subjects too often locked away."
You'll find further coverage of on the project here:

and here:

This was a joint project with the Institute of Art Design and Technology (IADT) Dun Laoghaire and was supported by funding from the Dublin Northwest Partnership.
Help us spread the word
Headway is on  Facebook, Twitter and Instagram. If you are too, please share and like to spread the word, #outoftheblue
Learn More
To learn more about brain injury, please click here
Get help
Get more information about Headway services here
Talk to us
If you need support, to talk to someone or want more information, here is how you can contact us.