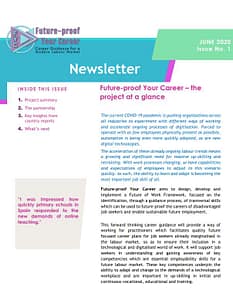 Last year, Headway's Vocational Rehabilitation Specialist in Dublin, Caroline Earley, was invited to represent Headway in collaborating with six other partners in six European Countries on an EU (Erasmus Plus) funded project entitled 'Future Proof Your Career (FYC)'.
The goal of the project is to develop a psychometric tool that vocational guidance practitioners can use to help disadvantaged job seekers develop the skills required for employment in the future world of work, where digitalisation and automation of job roles will increase.
Following an initial meeting with all partners in Rome at the end of last year extensive research was carried out by all partners with a variety of stakeholders, including clients of Headway seeking employment, the guidance practitioners supporting them and employers, in order to develop the framework for the tool, culminating in individual country reports and an overall summary report.
Due to the restrictions imposed by COVID 19 the trans-national meeting scheduled for Dublin in March had to take place online rather than face to face – emphasising the increased role of technology in the modern workplace! It was extremely productive nonetheless and we are now looking forward to being involved in the next step of developing the tool specification and content. Please enjoy our newsletter outlining further details of the project and stay tuned for further updates!