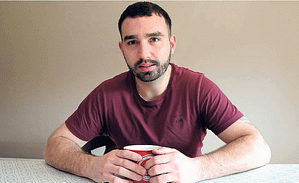 Stephen Forrest from Farranree was on his way to work three years ago when life took a dramatic turn. The former Headway client is urging the public to donate to the charity amid plans for a new brain injury facility in Carrigrohane.
In a recent article in the Evening Echo, Stephen talks about dealing with the stigma associated with brain injury.
"A lot of people were inclined to forget about me when they heard I had survived. That was hard as so few people knew the story afterwards. Don't get me wrong,  it was great that I lived, but coping with the effects of a brain injury isn't easy."
You can download a copy of the Evening Echo article here.
And you can watch his interview on Cork's Red FM here.
Find out more about the campaign to support our new centre here.
Picture: Denis Minihane