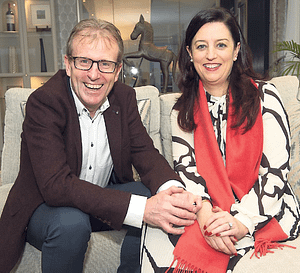 Headway client Michael Noonan (pictured here with his wife Allana)  made the papers in Cork with the great news that he is going to project manage the redevelopment of our rehabilitation centre on the Carrigrohane Road. Michael was overseeing the construction of a €600m pharmaceutical plant before a horrific cycling accident left him seriously injured. It was initially believed he would die from the trauma, which included a broken back and neck and severe head injuries, but Michael battled on and is making an impressive recovery.
The former GE Healthcare project director is now looking forward to volunteering as a project manager on the construction of Headway's proposed €5m facility that will cater for hundreds of brain injury survivors like him.
"I'll be volunteering as a project manager with the support of a full brain injury team who know my skillset and the limitations of my brain injury," he said.
You can read the full article online here  
or download a copy of the Evening Echo article here. Michael and Allana also did a fantastic  interview on Youghal Community Radio. If you follow this link you will hear their very powerful story.
Picture: Dan Linehan