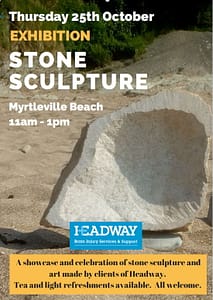 An exhibition of stone sculpture and pyrography wood burnings by clients of Headway, Cork at Myrtleville Beach was hailed as "uplifting" "feel-good" and "magical".  The event took place for two hours on the 25th October, and was attended by over 100 members of the public, as well students from the Life Centre, artists in residence with Cope and Crawford College of Art and Design.
The exhibition featured the artistic work of 13 people who began working with stone and wood in the past two years, as part of workshops offered by Headway, a service provider and support for people who have an acquired brain injury.  An additional carving in Johnstown marble, by students at Cork's Life Centre, was also on show.
Tommy Lysaght, stone carving tutor, explains:
"The best thing about working with this group has been watching each individual find their own voice and their own passions, while also building a community with the energy to realise a wider collective vision.  This is what we can see on the beach here today:  art and  community, where each person is equally valued, regardless of our background or abilities – with the stripping down of labels and constrictions."
The exhibition was opened by Ger Byrne whose piece, "Moods", crafted from granite from his family's farm in Wicklow, was on display, and by Jessica Carson, coordinator of the Creativity and Change programme at the Crawford College of Art and Design.  The attendees were serenaded by musicians Mick Looney, Ted Dorgan and Martin O'Brien.  In their addresses to the crowd, both Mr Byrne and Ms Carson stressed the importance of freedom and autonomy in the arts.
Ger Byrne
"I'm so proud to be part of this group, and this exhibition.  It has helped me a lot, and I think all of us, to build our confidence, and to deal with some of the frustrations of life and the challenges we face. The workshops give us freedom to express ourselves in a creative way, and that is what you can see here this morning: the results of that freedom."
Headway offers a number of services for people with an acquired brain injury, and their families.  The organisation offers a range of programmes, from computer skills to yoga, and brings the arts into their rehabilitation settings in order to provide an authentic learning experience that engages the whole person in a meaningful way.
Headways support worker Aisling McGeough describes the overwhelming support the group received in holding the exhibition:
"After all the effort that the group put into creating these pieces, it's so uplifting to see the work in situ, and to witness the impact it has on the public. Every face I see is smiling, and the sense of community is wonderful.
Manager Carol O'Brien adds:
"There has been so much good will around this event, with people contributing everything from tea, cakes and flowers, to live music, and arriving first thing this morning to help set up each of the sculptures.  We're already being asked when the next one is happening!"
The last word comes from Tommy Lysaght, paying tribute to the venue for the exhibition:
"The setting is also so important, because it's about taking the stones and wood that came originally from nature and "borrowed" by us to carve our story into it, and returning them to their natural environment.  It's stunning to see the work shining in the sunlight this morning, and displayed in this beautiful, natural gallery."